PROCESS CHART FOR MWP : RAW WATER TO FINISH PRODUCT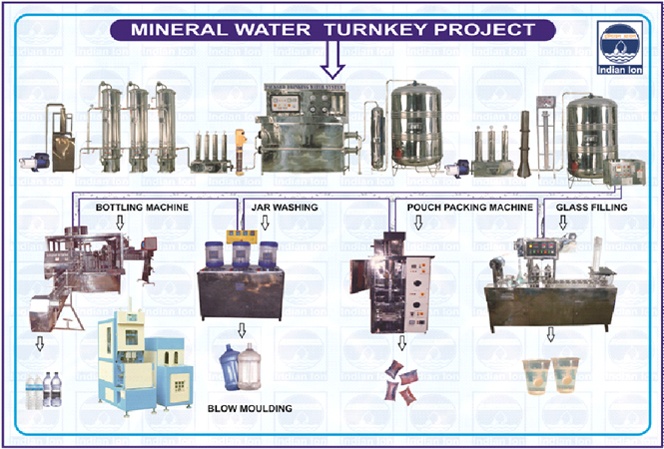 MINERAL WATER PROJECT TYPE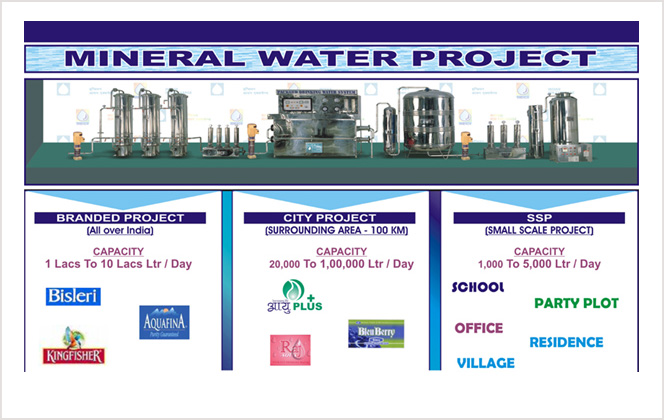 MINERAL WATER PROJECT CHART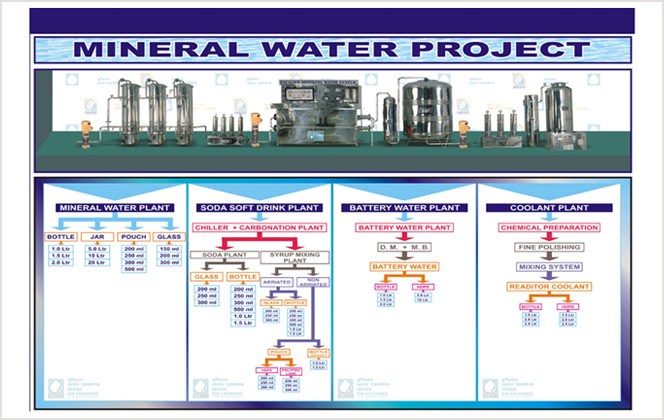 WHY WE MUST GO FOR BUSINESS OF MINERAL WATER?
As everybody is acknowledged that at present, various diseases are arising due to contaminated water, if people don't consume uncontaminated water they are not able to keep the stability of their own health. Uncontaminated water is essential for everybody i.e. from children to elders. For this, people can view the saying "Precaution is much good than cure". Indian Ion Exchange is immensely happy to say that we are an ISO validated company, which always stands at top level in quality.

Now a days, you understand that T.D.S and salt level in water enhances by each passing day that influences the health. So, consciousness to consume uncontaminated water improves gradually in public. People sustain lots of money to obtain the mineral water. Thus for this, much larger opportunities along with fame are coming into this kind of business to acquire the provision of uncontaminated water even to the general people as well as these business are gaining more profit.

It is evidenced exceptionally important worldwide business and is speedy moving and profit earning business.
MAJOR GROUNDS FORMS IT SUPERIOR BUSINESS
Prolonged Ranking Business : Ever increasing requirement and importance has created it a long-run business.

Great Profitability : The level of profit is highest in consumable industries.

Investment Required: This business only requires investment from one lakh to one crore, which any kind of investor or business class can afford.

Lordly For Business : You can avail the facilities that government provides such as subsidy up to 50% and loan from bank up to 85%.

Less Pay Back Time Period : By establishing the business of mineral water, you can get back the invested money in one to two years.

Business Status : This business can provide you enormous response with many companies.
PHASE WISE INSPECTION OF MANUFACTURING PROCESS
Following installation of the unit
During the assembling time of the unit
While attachment of unopened pack sheet
Examination of complete assembled plant
ZERO MAINTENANCE REQUIREMENT:
Due to the most apt design, our plant require no handling. Besides, the renewal of consumable is quiet low. Periodic and preventive handling are simple and can b performed by anyone.
FACTORY LAYOUT:

"Our company deals only in Commercial & Industrial Fields."


ISO 9001:2008