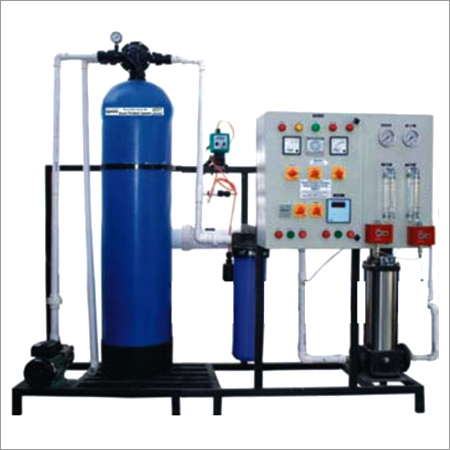 Price And Quantity
1 Unit

110000.00 - 250000.00 INR/Piece
Product Specifications
12 Volt (v)

50 Kilograms (kg)

Cabinet Type

Water Purifier

Plastic

50-200 Liter (L)

220-350 Volt (v)

Normal Water
Trade Information
Telegraphic Transfer (T/T), Cash in Advance (CID), Cash Advance (CA)

10 Unit Per Month

15-20 Days

All India
Product Description
Since our establishment, we are regarded as the foremost Reverse Osmosis Plant manufacturer. Proposed RO water plant is used to remove dissolved and suspended solids, oil, odor, ions and other harmful pathogens to obtain pure water that is safe for drinking and processing plants. This RO water plant is designed and assembled as per the international quality standards using highly operational basic components that are sourced from the trusted vendors of the industry. Our capability to offer Reverse Osmosis plants with various standard and customized capacities within budgeted costs has made us an undisputable RO Plant Manufacturer in this domain.
Features of Reverse Osmosis Plant :-
Reduce total dissolved solids including alkalinity, chloride and hardness
Energy efficient fully automated use friendly system
Modular, leak free, low maintenance
Cost-effective and productive RO water plant
High recovery from feeded raw water
High operational fluency
Extended life of membranes and high pressure pumps
Further Details of

RO Water Plant

:-
Reverse osmosis (RO) is a layer innovation filtration technique that expels many sorts of big molecules and particles from concentrations by applying stress to the concentration, as it is on one end of a specific film. The outcome is that the solute is held on the pressurized end of the layer and the unadulterated solvent is permitted to go to the opposite side. To be "specific," this layer ought not permit substantial atoms or particles through the pores, yet should permit littler segments of the concerntration such as solvent to pass independently.
Reverse Osmosis Plant
is utilized to filter water and evacuate salts and different polluting influences to enhance the properties, taste or color of the liquid.
Standard :
Osmosis is an organic procedure. At the point, when two fluids of various solution are segregated by a partial permeable film, the liquid tends to travel from low to high matter solutions for chemical possible equilibrium.
Osmosis recounts how solvent travels between two concentrations detached by a permeable layer to minimize solution contrasts between the concentration. When two concentrations with various solutions of a solute are blended, the aggregate sum of matters in the two concentrations will be similarly spaced in the whole amount of dissolvable from the two solutions. Rather than combining the two concentration, they can be placed in two units where they are discreted from each other by a half-permeable film. The semi penetrable film does not permit the solutes to travel from one unit to the next, yet permits the solvent to travel.
Suitably, reverse osmosis is a procedure of stressing a dissolvable from an area of high matter solution via a semipermeable layer to a area of low solute solution by applying a force in overabundance of the osmotic stress. The films utilized for reverse osmosis possess a thick membrane in the polymer grid where most partition takes place.
Points of interest :
Our range of Invert Osmosis Plant has the accompanying Advantages :
• Actively rejects contaminants and particles
• Minimize water that matches the most requiring details
• Permit the film to constantly clean itself
• Elevated stress through the pump to propel the liquid through the film.
• Capable of dismissing microorganisms, sugars, particles, salts, proteins, colors and different constituents.
• Operates in different sub-atomic weights.
Usages :
• Sanitization of drinking water
• Water and effluent sanitization
• Food sector
• Car cleaning
• Hydrogen making
• Atoll aquariums
Water sanitization :
Around the globe, water cleaning systems, comprising an invert osmosis stage, are ordinarily utilized for enhancing water for consuming and various other work.
Water and Effluent Decontaminate :
Rain water gathered from storm channels is decontaminated with invert osmosis water processors and also utilized for industrial cooling and landscape irrigation, as a provision for the issue of water deficiencies.
Food Sector :
Inclusion of desalination, invert osmosis is a more practical work for concentrating food fluids, (for example, fruit juices) than traditional hot-treatment procedures. Study has been performed on solution of juice of tomato and orange. Its focal points incorporate a lower working expense and the capability to ignore hot-treatment procedures that makes it ideal for heat-sensitive items such as the enzymes and protein in most items of food.
Car Cleaning :
Due to of its lesser mineral substance, invert osmosis water is regularly utilized as a part of auto washes amid the finished vehicle clean to avert water staining on the car. Invert osmosis is often employed to moderate and reuse water inside the pre-rinse/wash cycles, particularly in drought prone regions where water preservation is vital. Further, invert osmosis water additionally empowers the car clean worker to minimize the requirements on the car drying equipment, for example, air blowers.
Hydrogen Making :
For little scale manufacturing of hydrogen, invert osmosis is now and again utilized to avoid generation of minerals on the base of electrodes.
Atoll aquariums :
Many atoll aquarium guardians utilize invert osmosis systems for their man-made blend of seawater. Standard tap water can regularly include excessive chloramines, nitrogen, silicates, chlorine, copper, phosphates or numerous different chemicals inconvenient to the sensitive living beings in a atoll surroundings. Impurities, for example, phosphates and nitrogen compounds can prompt to extra and undesirable, algae development. A viable blend of both deionization (DI/RO) and reverse osmosis is the most prominent among atoll aquarium guardians.

Other Products in 'RO System' category
"Our company deals only in Commercial & Industrial Fields."